Or: The Complete 9/11 Psy-op : Computer Simulated Plane Crashes, Computer Simulated Building Collapses; and Computer Generated [Faked] Victim Photos. [Updated from the original, May 2014].
N.B. This short essay was written primarily for the benefit of myself, to try to update/clarify my current position on all things 9/11 at this time, and also for those persons who have like myself, mostly via the research of people like Simon Shack and his
Cluesforum
members, reached all 3 of the "Red Pill" conclusions listed below. If you have
not
reached those 3 conclusions, you are free to leave your outraged/hysterical comments and/or entirely derogatory remarks, at this blog site if you like -but don't expect a reply- I have neither the time, the patience, nor the intention of endlessly discussing/debating with anyone who disagrees with
any/all of those 3 listed "Red Pill " conclusions, for free with you, dear reader, either here, or elsewhere [possible exception: maybe on a radio show]. As far as I am concerned, you are free to believe whatever you want to about the events of 9/11, it is really none of my business at this time. If you want to make it my business you are going to have to pay me [one way or another ] for my time/energy, me being
a "filthy capitalist pig"
, and all that :-) . Regards onebornfree.
[Update 07/01/14: On 06/28/14 I was interviewed on the "DustBan" Radio show by Banazir and Dusty, specifically about the article below.]
Congratulations, You've Seen Through "The Matrix" !
Meaning, you took that infamous "Red Pill", and I assume you now know "how deep the rabbit hole" really goes [i.e. a lot deeper than the average 9/11 researcher, let alone "Joe Six-Pack", appears to understand].
To be more specific:
"Red Pill"
Point [1]: The "Live" Footage We All Saw Of Flight 175 Hitting The WTC2 Building on TV On 9/11
Was All Faked.
[n.b. there was no alleged "live" MSM broadcast of the first plane strike, Fl.11 into WTC1, just before 9am. Only the 2nd "strike", Fl.175 into WTC2 was allegedly broadcast "live" by the MSM that morning.]
Specifically: a plane, or maybe a missile that looked like a plane, may or may not have struck WTC 1 or 2 in real life, it's impossible to say for certain.

Some people I have talked to claim to have been there and witnessed a plane [or plane-like missile perhaps] hitting WTC's 1 and 2, while others who claim to have been present right beneath the towers that day claim to have seen/heard nothing in the way of planes or missiles prior to an explosion of some sort.

Which means that for myself personally [I was not there that day], I have no idea whether or not planes or missiles did, or did not hit WTC1 and 2. Not that it really matters in the big picture, I would suggest .

However, in my opinion, neither the possible absence, nor possible presence of planes or missiles that day can negate the fact that the "live" MSM television coverage showing Fl.175 flying into WTC 2 that so many of us saw on 9/11, and all took for granted to be genuine imagery, was in fact fake imagery that appears to have been fabricated on computers ahead of time and then fraudulently broadcast that morning as authentic "live" footage.

Also, No Planes At The Pentagon Or In Shanksville PA?
On top of that, no planes appear to have struck the Pentagon, nor magically completely disappeared into the ground in Shanksville P.A., although once again, actual planes may or may not have been present in those two areas that day and seen by various persons.
"Red Pill"
Point [2]: The TV Network Imagery Showing the "Live" Collapses of
WTC2,
WTC1
, and
WTC 7
On 9/11 Was Also All Faked.
Meaning: there were no actual "live" TV Broadcasts of sub- 20 second, top down tower collapses due to fires caused by plane collisions for WTC1 and 2, and also, no "live" broadcasts of a sub- 20 second [bottom up] collapse of WTC7 that day:
Although the 7 buildings comprising the WTC complex, plus two others close by, were destroyed that day [obviously] , the alleged "live" "on air" collapses of WTC1 , WTC2 and WTC7 were in actuality nothing more than a series of computer generated animations made prior to 9/11, no different from the fake "live" footage of Fl.175 flying into WTC2 .
"Red Pill"
Point [3]: Fake Victim Photos/Lists :
Upon close investigation, it appears that many/ most, or possibly all, of the reported 3000 or so victims listed in the various memorial sites
never even existed and were in actuality fake personalities, made up by using computer image morphing software for their various portraits,
plus wholly faked bio/life-history and family relative information to flesh them out a little more and make them all appear more real to us all.
A Big-Picture"Red Pill"Conclusion: The MSM Is Nothing More Than The Promotional/ Propaganda Tool Of The Military Industrial/ Security Complex:
Like myself, you have maybe now reluctantly concluded that the government/miltary controls the TV and radio media, and that even what little produced that is not directly controlled merely churns out the same tired propaganda masquerading as "independent opinion", from government "educated" talking heads with fake hair, fake tans and overly white teeth, for the mass consumption of happy slaves and useful idiots within the matrix everywhere.
"Blue Pill"
Reality Check: Are You Still, Despite All You Now Know About 9/11, Partially Stuck Inside The Matrix?
I would say yes, if you have made any of the following [false] assumptions:
False
"Blue Pill"
Assumption [1] :"We Can Bring "The Perps" To Justice"[ The Matrix"Has You" If You Believe This] :
In case you were not already aware: government, and government "justice" is a scam:
Just like those 911 media "plane into building" and all of those under 20 second building collapse sequence movies, and just like those 3,000 odd alleged 9/11 victims, and just like all those permanently grinning talking [empty] heads in the mainstream media,
government itself is a scam.
Ergo, government "justice" itself is essentially a scam.
Meaning: if, after having realized the truth [i.e faked "plane into building" footage, fake "live" WTC building collapse footage, and mostly or exclusively fake victims], you are expecting "justice" to be administered by the government in the case of 911 or, for that matter, in any other case, I'm afraid you are going to be extremely disappointed.
False
"Blue Pill"
Assumption [2] : Most People Care, Or Would Welcome Being "Woken Up"[ The Matrix "Has You" If You Believe This!]
Morpheus : "These people are a part of that system and that makes them our enemies. You have to understand, most of these people are not ready to be unplugged."
As for people caring about what you and I have concluded about the alleged events of 9/11, and being grateful for the information that you and I have to offer them, it pays to remember that
most are happy slaves
- they do not want to be free [or they think they are free]- they certainly do not want to listen to what you or I might believe to be the truth about 911 [or anything else].

Post "Red Pill" Fact: 9/11- Was Just Another "Business As Usual" Minor Government Scam

Historically speaking, the 911 scam is just another, [albeit minor] example of the way that governments always operate, and must operate, given their fundamental nature.
Given
human action theory
, and human nature, and being what they [governments] ultimately are; that is, socially acceptable supra- criminal organizations , it is impossible for them to operate in any other way than what has been revealed to you via the events of 9/11 and others similar in nature - so I would caution you that it is extremely unwise for you to expect
any
change in their modus operandi,
ever.

Governments Fundamental, Unchangeable Criminal Nature

Re-Cap: The Events of 9/11- Four "Red Pill" Facts You Are Probably Already Aware Of

"Red Pill" Fact [1]: Large commercial jet airliners cannot fly at 500mph below 1000 ft.

At 600ft above sea level, where the air is 4x as dense, they cannot maintain a speed above around 250mph [ not 500+mph, the impact speed claimed by the government and N.I.S.T.] because [1]the engines cannot handle the 4x higher density of the incoming air above that speed, and [2] the airframe is not designed to withstand the buffeting it receives at speeds above 250mph at that higher air density for extended periods of time, especially under the duress of sharp descents and simultaneous turns. [ Therefor, for this reason alone, any alleged "live" 9/11 video that shows a plane image traveling at a calculated video frame to video frame speed of around 500 mph. , must automatically be dismissed as a fake.]
"Red Pill" Fact [2]
: Aluminum Cannot Cut Through Steel:
"Red Pill" Fact [3] : It Is Impossible For A Photographer/ Videographer To Successfully Track A Plane Moving Across Their Field Of Vision At 500mph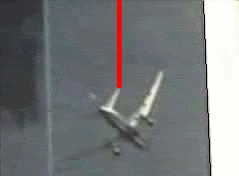 And again, as with the pointless concern over actual demolition methodology, I would suggest that whether no-one, or just "a few", people really died in those buildings that day is again mostly irrelevant in the big picture, which is, I would humbly suggest, your very own personal freedom [see below].
So you can waste a lot of time trying to determine exactly how many died and still never really know for sure- so again, why bother?
Meaning, if you have governments in the first place, sooner or later , this [9/11, and far worse] is what you are going to inevitably get, no "ifs, ands, or buts"!.
Even if you decide to do nothing except stay where you are and maybe suck a little harder on that blue pill, you've still [maybe] learnt not to believe a damn thing you see on the TV, hear on the radio or read in the mainstream press, so you are still way ahead of the game, yes?
Regards, onbornfree.